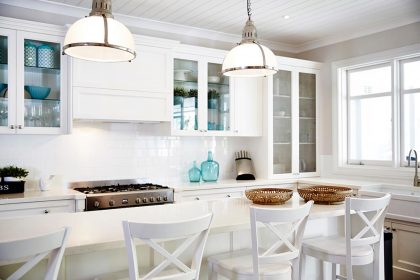 Where Are The Hamptons
The Hamptons, on eastern Long Island's South Fork, is a string of seaside communities known as a summer destination for affluent New York City residents. It's marked by long stretches of beach and an interior of farmland, towns and villages with 18th-century shingle buildings and estates hidden behind tall boxwood hedges. East Hampton is home to high-end restaurants, bars and designer boutiques. The Hamptons – Wikipedia
What Is The Hamptons Style
To get the Hamptons look for your home you'll need to combine a rustic, casual beach style juxtaposed against a sophisticated classic look.
You'll need to mix some cool blue shade, off-white tones, panelled walls and wooden flooring are just some of the ways you can reinvent your house into a resort-like home. Large windows to flood the living spaces with natural light helps to create a sense of peace & calm.
How To Create A Hamptons Style Home
Choose Your Colour Palette
Choose a colour scheme that is inspired by nature. Combine some soft whites with warm shades of beige. Aqua tones combined with sharp cobalt blue go together beautifully. Similarly, charcoal hues contrast well with the vibrancy of coral colours.
Beach-Inspired Furniture
Bench seats, linen upholstery, hanging chairs & wicker furniture are just some pieces that you can use, in combination, to add the beach-like aeatheytice of a Hamptons home.
Give Some Furniture A New Lease Of Life
There is a trick to getting the right mix of shabby chic and modern elegance. Get hold of some old pieces of furniture and give them a second lease of life – repaint, reupholster and reuse. Combine these reimagined pieces with some contemporary furniture to create a fashionable chic living space.
Accessorise – The Devil Is In The Detail
Install beautify chandeliers, get some table lamps as well as some sconce lighting – these combined, are a great way to make a visual statement. For bathrooms you should consider subway or marble tiles, mix in some traditional style tapware and bring it all together with a neutral colour palette.
Wooden Floors & Panelled Walls
Timber flooring is the ideal choice for the Hamptons look. Dark or light timbers and white washed wood finishes work equally well. Try adding floor coverings like sisal or jute rugs, their coarser fibres will add elements of texture and contrast. For the walls use tongue and groove panelling.